After another lengthy hiatus, Supergirl is finally back this week with a fun, yet heartfelt episode!
Over the past few years, karaoke has been something fun that most of the Arrowverse shows have done.  The latest installment of karaoke time kicks off this weeks episode.  Not exactly how I thought the episode would start off but it shows that even in the tough times, sometimes the only thing you can do is go and have a good fun time with your friends.  This was fun for me to watch since I am a fan of doing some karaoke myself.  But enough about me.  How about Kara killing it with Beastie Boys' Interagllactic?  I say she won this karaoke battle followed closely by J'onn's father, M'yrnn, who rocked out to some Elvis Presley.
The fun doesn't last though.  Before Winn can get his karaoke on, a news report comes on reporting that his father, the villainous Toyman, died while in prison.  At the funeral, Winn's mother Mary, whom he hasn't seen in 20 years, arrives to see him before Toyman's casket explodes.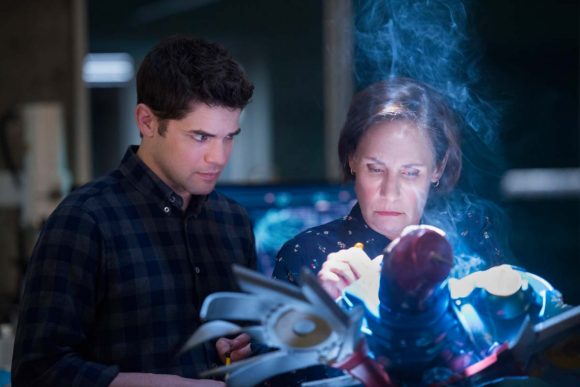 Academy Award nominated Laurie Metcalf is brought in to play Mary and she shares some great scenes with Jeremy Jordan.  When they finally get a chance to speak to each other, I truly felt the pain and sadness that Winn is feeling.  Later as they are together investigating a mechanical flying monkey (which I initially thought were little Parademons) from an earlier attack, you can feel the bond they share and a feeling of wanting to make up for missed time.  And in the end, even though Supergirl is present, Winn is the one who saves Mary from a copycat Toyman.  Or should I say Toywoman?  Hopefully the Mother/Son relationship goes much smoother than the Father/Son relationship from here on out.
I enjoyed the subplot in this episode involving J'onn, M'yrnn and Alex.  The realization that M'yrnn is suffering from dementia is a heartbreaking reveal.  We'll see how J'onn handles this terrible news going forward.  I also want to applaud the Supergirl writers for touching on the issue of racism.  Going by the moniker of Hank Henshaw was a required choice before for J'onn.  Now, he can be whoever he wants.  But he keeps this appearance because he likes it.  He's proud of it.  He talks on the history of the Green and White Martians and asserts that he would rather work to make the world a better place than change his appearance to suit a racist world.
Now, the reveals that the last episode left us hanging with.  The Legion of Superheroes are indeed here on a mission.  That mission is to find and stop the third World Killer, Pestilence, who has yet to be discovered.  1,000 years from now, Pestilence evolves into Blight.  Whaaaaaaaaat?
And conspicuous by her absence all episode we finally catch up with Lena, who is in some sort of science lab with Sam.  What is going on?  Does Lena really know what is wrong with Sam? I guess we'll find out next week.  Check out the trailer for next week's episode below and tell me what you thought of this episode.  See you next time!